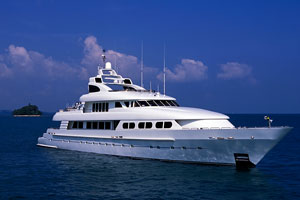 What is your large boat made of? If you said fiberglass, you're just not keeping up with the times. Today, new technology, techniques, and know-how mean that larger boat manufacturers are going way beyond fiberglass and wood to build a modern-day fleet of better boats. Not only do these newer techniques enhance a boat's performance, buoyancy, longevity, and strength, and fuel efficiency, many of these processes are better for the environment.

So what new techniques, materials, and processes are involved in building modern yachts and other large boats?

Sandwich construction, in which two high-strength skins are separated by a core material, is designed to increase the thickness and stiffness of fiberglass boats without extra weight. There are many different core materials used depending upon your needs. Balsa is very strong and stiff, but the downside is that it is susceptible to rot when exposed to moisture. Foam cores are lighter and more resistant to rot, but they are also more expensive. PVC foam, linear foam, or SAN foam can be used depending upon the stiffness desired. Often, builders use a variety of foams on different parts of the boat, depending upon how much stiffness is required. Honeycomb hulls are made of the lightest possible material and can also be processed as both curved or flat pieces.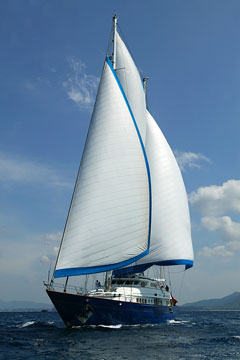 When it comes to laminating the hull, hand layup is one of the more common methods. In hand layup, a wax-coated mold allows the cured fiberglass laminate to be removed without damage. A layer of gelcoat and a skin coat of hand-laid mat serves as a print blocker. Finally, alternate layers of resin and cloth are laid down until the hull reaches the desired thickness. Sometimes hulls that are done by hand layup undergo vacuum bagging, a construction technique in which atmospheric pressure is used to bind adhesive, cores, and laminates together until the resin cures. Hulls that are vacuum bagged have a denser and more even layup.

Resin infusion is another process that allows the manufacturer to use a vacuum to draw resin into a dry laminate. Sometimes called VIP (vacuum infusion process), this process allows the builder to work with dry laminate instead of wet.

The Seemann Composites Resin Infusion Molding Process, or SCRIMP, is a patented resin transfer process that is similar to resin infusion, in that it involves laying the fiber reinforcements, core materials, and other inserts in the mold when dry.

An alternative is chopper gun layup, in which short, glass fibers are sprayed out of an applicator gun on the mold, and then rolled out by hand. Because chopper gun layups must be thicker in order to have proper strength, they are heavier and don't have the strength and longevity of hand layups. However, they are fast and inexpensive to make, which makes it the technique of choice for manufacturers who specialize in mass-produced hulls.

High-end big boat builders use a process called wet-preg to ensure that the glass to resin ratio is correct. In wet-preg, machines called resin impregnators are used. In the process, the dry reinforcement material is passed through a pool of catalyzed resin, after which the fibers are compressed and the excess resin is squeezed out. The process allows higher-quality materials to be used, and the resulting product is lighter than that of other processes.

Finally, custom builders sometimes use a building method called pre-preg, in which preimpregnated reinforcements are delivered to the boat builder ready to be laid up. Because of the cost and special equipment needed, this technique is not likely to be used by many builders any time soon. However, the ability to handle the material easily and the fact that it's an environmentally friendly option will most likely have builders looking for ways to make this process more useable.
---
Large Boat Building Trends