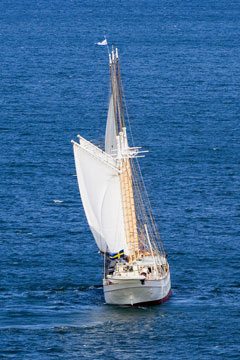 When we think of sailing today, we often think of it as a competitive pursuit or pleasurable activity. We forget that the roots of sailing lay in commerce and war.

Throughout the years, sailboats have morphed from utilitarian vessels high-performance racing boats. How did it all happen?

People started thinking about adding speed to sailboats in 1849, when the British monopoly on the tea trade ended. All of a sudden, anyone could trade in tea. The question was, how fast could you get it there? In a quest for speed, Americans developed the clipper ship, and suddenly others started thinking about how they could get their boats to go faster.

In the mid-1800s, yachting became popular. The first yacht built in the United States was a 95-foot schooner named America. The boat raced around the British Isle of Wight and beat 21 opponents. The 8-pound solid silver trophy that America took home is now known as America's Cup. The event by the same name is still held annually, and its winner enjoys the ultimate prestige.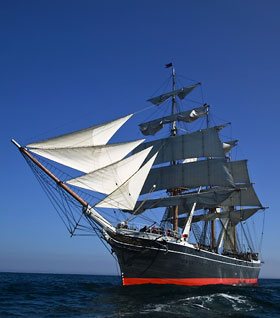 Until 1930, no rules had restricted what kinds of boats could enter the race, and so they got bigger and bigger to achieve more and more speed. But in 1930, the Universal Rule and the J class came on the scene. While their time was short-lived, the J class comprised enormous boats and giant crews. The J class was forced to bow out after World War II, because of their large crews and enormous upkeep.

The first 12-meter boat was built in 1957, and because it was more affordable but equally as competitive, it was a good alternative to the J class. The most successful 12-meter designer during this period was Olin Stephens.

By 1992 America's Cup sailboats had further evolved. In addition to being, on average, about 10 feet longer than the typical 12-meters, they were also made out of modern materials like carbon fiber, epoxy resins, and Kevlar.

But racing wasn't just for larger boats. In 1904, a man named Thomas Fleming Day thought the sport should be opened up to smaller boats. Soon ocean races were cropping up in all parts of the world. Olin and Rod Stephens were two Americans who made names for themselves winning ocean races on boats that Olin had specially designed.

Eric Tabarly revolutionized the world of sailing when he designed and built a series of unique and innovative sailboats, including a wishbone schooner, an aluminum trimaran, and a sailboat fitted with a spent aluminum keel. While not all of these models were 100% successful, they did challenge people to think more about sailboat design. Thanks to Taberly and other sailboat builders before and after him who have spent lots of time considering speed, seaworthiness, and weight, sailboat design continues to evolve today.
---
Sailboat Building - The History of Sailboats